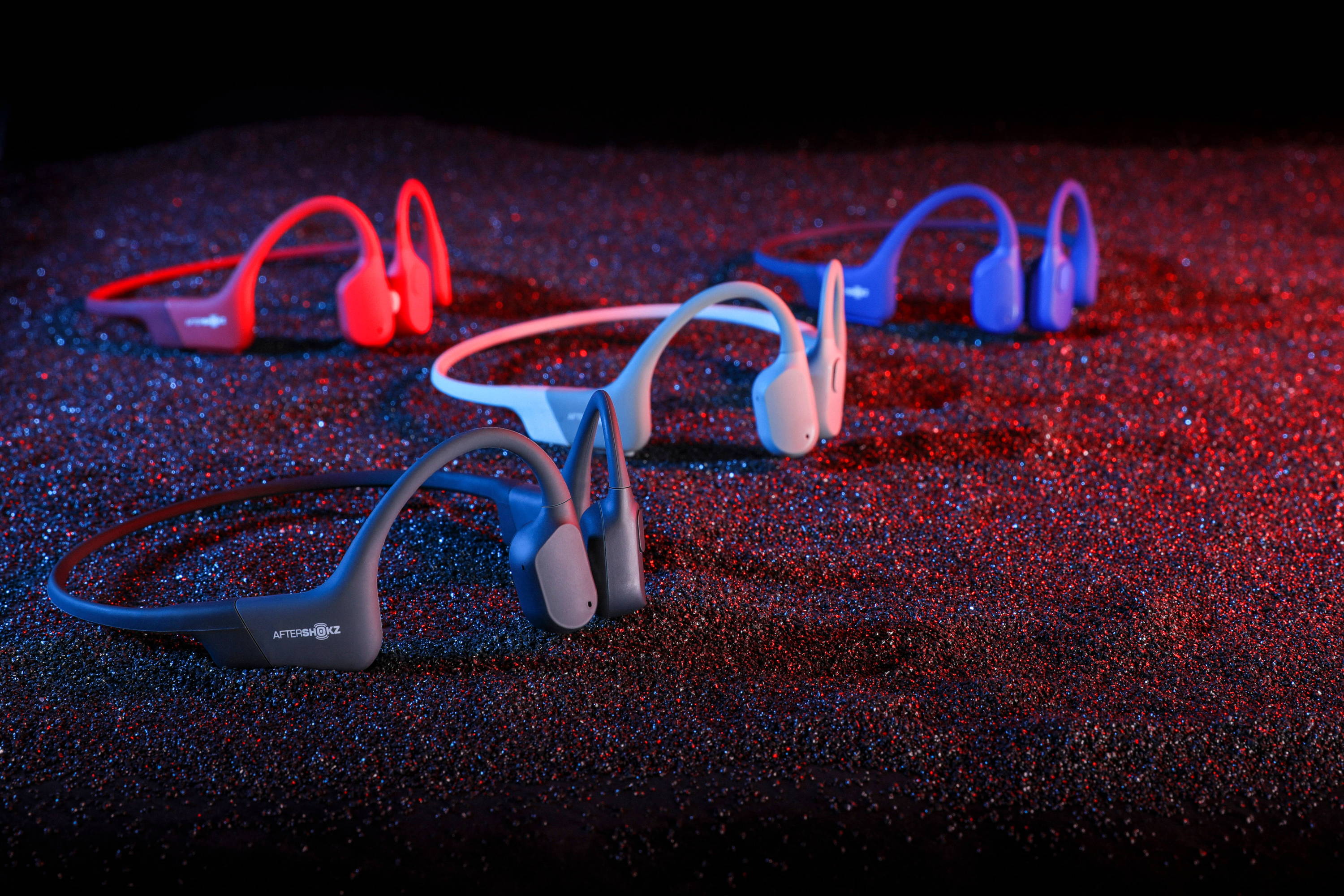 Hit the road with new AfterShokz Aeropex boneconduction headphones
No matter how or where you like to workout AfterShokz Aeropex will be your new go to headphones
18th June 2019, London UK - AfterShokz, the bone conduction headphone brand known forprioritising situational awareness and comfort through its unique open ear design, today announcedits new generation of Air wireless bone conduction headphones, the Aeropex. 
Aeropex will be available in four of the season's hottest colours: Lunar Grey, Cosmic Black, Blue Eclipseand Solar Red. The Aeropex will be available online from June 18th for £149.95 RRP. 
Aeropex uses bone conduction technology to transmit audio waves to the inner ears through the skull,bypassing the eardrums completely. Place them on your cheekbones, just in front of your ears. Thisleaves your ear canals open, allowing you to remain alert and aware of ambient sounds, teammates,coaches, training partners and more while you enjoy your music or podcasts. Bluetooth® connectivitygives you the ability to be free of wires working with your phone up to 10m away. 
Designed to withstand intense training, Aeropex are IP67 approved making them fully water andsweat proof allowing you to run whether rain, sun or snow! Tilting at a 30-degree angle towardsyour face to stop vibrations, the Aeropex are integrated with Premium Pitch 2+ sound to deliver anoptimum audio experience to every user. 
"By expanding our range of bone conduction headphones, we hope to bring something fresh to themarket," said AfterShokz CTO Ken Chen "The Aeropex bring another dimension to the Trekz Airrange, now incorporating a smaller waterproof design, and offer an exciting look into what ispossible when you train with bone conduction technology. We hope to carry on developing andimproving our collection as well as the AfterShokz brand." 
Aeropex features: 
● 30% smaller: The backbone of the design is a premium titanium frame and wraparoundband which is now 30% smaller and        13% lighter than the Trekz Air. The      new Aeropex' sit at a30-degree tilt against your face to reduce vibration. 
● OpenFit™ design: Promising uncompromised situational awareness and extended comfort ina revolutionary open ear design.     This means you can tune in to            your music or a call withouttuning out the world around you — vital for staying safe and         alert as you move through theday.
● PremiumPitch 2+™ sound: Bone conduction audio has earned its bad reputation due to ablend of natural sound leakage and        weak bass. PremiumPitch 2+™         technology optimises thesound to increase bass so you can really run to the beat. 
● Eight hours of music and calls: A single charge will deliver at least eight hours of music playand call time. You can charge           fully in two hours, but a quick 15-        minute charge providesenough boost to get you through a run, but if you're planning on             running a marathon best tobe prepared and charge fully! 
● IP67 Waterproof: Can withstand being submerged in up to one meter of water for 30minutes. Completely sweat and rain              proof, you will be alerted if the            headphones are still wetwhen trying to charge. 
● Reduced sound leakage: By removing any Leakslayer holes AfterShokz have managed toreduce the sound leakage by 50%          compared to the Trekz Air. 
Notable improvements over the previous model, Air: 
- 30% smaller and 15% lighter 
- New and improved PremiumPitch 2+ sound 
- Improved battery life- Waterproof IP67 
- Reduced sound leakage 
  More on the Aeropex including specs, images and video can be found in the press kit here.  
About AfterShokz 
AfterShokz brings patented bone conduction technology, initially developed for military specialoperations and law enforcement by Voxtech in 2001, to sport and Bluetooth® headphones designedand priced for everyday use. Through a suite of proprietary audio technologies and a completely openear design, AfterShokz headphones deliver premium stereo sound and a promise of safety andcomfort that is second to none. Since its inception in 2011, the company has been committed toinnovating unconventionally and making situational awareness a priority. Learn more about how thebrand inspires users to #beopen at aftershokz.co.uk.  
PR Contact 
Ranieri Agency
Samantha Stewart 
0207 148 1606